All-Stars in the family
A Pau Gasol-Marc Gasol showdown makes this NBA All-Star game special
Updated: February 14, 2015, 6:37 PM ET
By Tom Friend | ESPN.com



EVERY CHRISTMAS MORNING, in their Barcelona cottage, young Pau and Marc Gasol would tiptoe out of their bedroom to discover presents under the tree. Pau, four and a half years older, would sit still and admire his gifts. He would open just two or three -- then save the others for later that afternoon. He would even save one for the next day. He wouldn't rip the packages open but would untie them so the wrapping paper could be saved, pressed and reused. Marc, meanwhile, would open his 10 gifts in the matter of a minute. Wrapping paper would be flying and parents would be ducking. "By the time Pau would have opened his second present, I'd broke my first toy already," Marc says.
So there is your scouting report heading into the opening tip of Sunday's NBA All-Star Game. Brother will be jumping center against brother for the first time in league history. One will be clean-shaven, lean and play the game like chess. The other will be bearded, robust and play the game as if it were rugby. Neither is certain how he will react when the cameras are popping, just before they jump ball. Maybe they will grin at each other. But once the game starts, they're pretty sure it will feel like ... Christmas morning.
---
WHEN PAU'S Chicago Bulls were about to play Marc's Memphis Grizzlies just six days before Christmas, Chicago coach Tom Thibodeau gave his team a full scouting report. He told Joakim Noah that left-handed Zach Randolph likes to post up on the right block. He started to tell Pau about Marc -- and then cut himself off.
"Oh, yeah, you know," he said. "And if you don't know by now, what's the use in telling you?"
The brothers go way back, back to when playing in the NBA was the furthest thing from their minds. Their bodies are polar opposites, and the paths they took are different, but the Gasols are intertwined. One would not be here without the other.
[+] Enlarge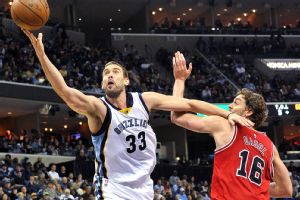 AP Photo/Brandon DillMarc and Pau have always competed fiercely with one another, on and off the court.
Pau was the model child, the straight-A student whose first dreams were to follow in the footsteps of his mother, Marisa, a medical doctor. When Magic Johnson was diagnosed with HIV in 1991, 11-year old Pau wanted to find a cure. Marc didn't give a damn about straight A's. He just wanted to go camping.
The family's annual trips to a wooded Barcelona trailer park were times the brothers bonded. For two weeks, they would share the same tent and same bunk. They would ride bikes, kick a soccer ball and shoot hoops on a dirt court.
As straight-laced as Pau was -- he even went to pingpong camp one summer -- he liked roughing it in the outdoors, and he could be a bear when the moment required it. He and Marc would end up at each other's throats, competing at rock skipping, Uno, bocce ball, you name it. "It's got to be in our DNA," says Marc, "because it's not something we can change. It's not about basketball, either. We don' t like losing to each other in anything. Whatever we play. We play freaking 'Hungry Hippo' and hate to lose."
Yes, a night of "Hungry Hungry Hippos" -- a table game in which your hippo tries to eat more marbles than all the other hippos -- set them off once. One game turned into a best-of-3, which turned into a best-of-5, which turned into a best-of-7. It was like the NBA Finals ... with hippos.
---
WHEN IT CAME to basketball, their one-on-one battles weren't really battles at all. By his late teens, skinny Pau had sprouted to 7-foot and, on the court, would toy with Marc. Actually, Pau toyed with pretty much everyone in Europe. His breakthrough moment, in 2001, was his MVP performance in the Spanish King's Cup. "He totally exploded and took over," Marc says. "It was pretty unbelievable how he did it." While leading his Barcelona team to the title, Gasol made jump shots, precise passes and everyone on his team better. This was the Pau most NBA executives fell in love with. Marc particularly took note of his brother's journey. Pau had quit medical school to play full-time with the Spanish junior and national teams, who practiced sometimes three times a day and 10 months out of the year. The hard work was paying off. Pau went third overall to Atlanta in the 2001 NBA draft and was traded to the Memphis Grizzlies.
The Gasols held a family meeting. Marisa decided she could move her medical practice to Memphis, and her husband, Agusti' -- a registered nurse -- figured he could find a hospital administrator job. They packed up and flew across the Atlantic with him.
They found a modest house on the outskirts of Memphis and the family -- Marisa, Agusti', Pau, Marc and younger brother Adria', who was 8 at the time - lived together. "Not too many NBA guys would live at home like that," says former Grizzlies coach Hubie Brown. It kept Pau in his comfort zone and also kept his brother just a bedroom away down the hall. But if the American South was culture shock to Pau, it was a revelation to the 16-year-old Marc.
When he began walking the halls at his new private school in Memphis, Lausanne Collegiate School, he was an absolute novelty. Here Marc was, over 300 pounds and pushing 7-feet, with the last name Gasol. Someone marched him in to the basketball coach, Jason Peters, who gulped and dialed his assistant coach, Jon Van Hoozer. "Get over here now," Peters said. "You've gotta see this."
No one at Lausanne had ever seen a student that gargantuan -- considering Marc was nearly as wide as he was tall. To be kind, he still had his baby fat. But the coaches quickly directed him to the gym, where he displayed a feathery touch and the ability to find the open man. Marc quickly meshed with the group. Lausanne was known for taking foreign exchange students, and the team already had a skilled point guard from Yugoslavia. They also conveniently had Jonnie West, the son of Grizzlies executive and Hall of Famer Jerry West. This was a former all-girls school with about 30 boys in Marc's junior class, but with this trio of players, Lausanne was on its way to winning its low-level private school championship.
Down the road at FedEx Forum, Pau was winning hearts in his own understated way. The Grizzlies fan base admired how he attended the ballet and supported the local orchestra. He fit in well with the wine and cheese crowd. On the court, he was just as smooth, winning rookie of the year and averaging 17.6 points a game. Marc's game was still rough around the edges. When he was in town, Pau would sit with his parents at Marc's games, amused at how he would bully the opposing 6-foot-1 centers and curse at the refs in Spanish. "I sugarcoat things a little more than Marc," Pau says. "He's more emotional, more direct."
Marc showed flashes of brilliance, though. He had soft hands, a high basketball IQ and would often start games by taking and making a 3-pointer. Everybody adored him; they just wished he'd mix in a salad. On the trip to Orlando, every time he saw the Golden Arches, Marc would shout, "Woooooo, McDonalds." He'd eat fries while wearing a McDonalds chef's hat.
"He used to come over to my house with Jonnie," Jerry West says, "and he'd eat three double-cheeseburgers with layers of mayo and ketchup. Or three or four double-triples with a big order of fries. Anything you put in front of him he'd eat. He was huge, let's put it that way. Next to his teammates, he looked like a fairy tale character standing over his fiefdom. With that lack of mobility, I wasn't sure he'd be able to get in physical shape."
A stray college coach or two would come in to scout Marc and not know what to make of him. His brother, now a second-year player, was so elegant on the court. Marc, now a high school senior, was nicknamed "The Big Burrito." John Calipari, who at the time was coaching at Memphis, gave no thought to offering Marc a scholarship, according to Van Hoozer. He might have taken him as a walk-on because of his last name, but "I can't see where he would've contributed at all," Van Hoozer says.
Marc was more introspective, though, than anybody ever knew. He and Jonnie West would spend all of their free time at Grizzlies practices and games. And because Shane Battier's wife was a soccer coach at Lausanne, Battier and other Grizzlies players would return the favor and attend Marc's games, too. Marc saw the NBA work ethic, particularly his brother's, up close. Pau would do yoga and seemingly glide up and down the court. "Those two years in Memphis, I was able to see the lifestyle of an NBA player," Marc says. "To see how much they work."
Around that time, in the spring of 2003, Marc called another family meeting. He told Marisa and Agusti' he wanted to return to play for FC Barcelona rather than attend an American college. His parents were against it. There was no telling how far the fun-loving Marc would stray in Barcelona without parental supervision. But Marc had decided he needed to follow in Pau's footsteps. In Spain, practicing three times a day, 10 months a year, his brother had become a burgeoning NBA All-Star. Marc dreamed of doing the same.
---
MARC TOOK mountain runs, swore off double-triples with mayo and wound up losing about a quarter of his body weight.
By 2006, he was his brother's backup on the Spanish national team. When Pau broke his foot in the FIBA World Championship that year, Spain had to lean on a different Gasol in the gold medal game versus Greece. Marc wound up with seven rebounds and handcuffed the Greek big man, Sofoklis Schortsianitis, in Spain's 70-47 victory. The question was: did anybody in the U.S. see it?
Maybe the Memphis Grizzlies did; maybe the Los Angeles Lakers didn't. But that's the day that set everything that's taken place now in motion. Pau returned to Memphis after the foot injury and -- coming off of his first all-star appearance the year before -- wasn't the same. He played only 59 games in the 2006-07 season, and considering he was owed over $10 million, the Grizzlies began looking to trade him during the 2007-08 season.
The Lakers, desperate to give Kobe Bryant a center to replace Shaquille O'Neal, couldn't pull the trigger soon enough. On Feb. 1, 2008, they gave the Grizzlies Kwame Brown, Aaron McKie, Javaris Crittenton, first round picks in 2008 and 2010 ... and the rights to Marc.
[+] Enlarge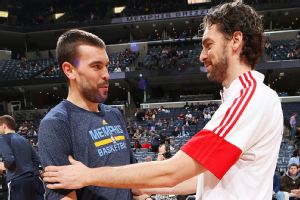 Joe Murphy/NBAE/Getty ImagesPau was the first to have success in the NBA, but he always believed Marc would also find his way.
Just months earlier, the Lakers had drafted Marc in the second round, 48th overall, but had shown little interest in signing him. Marc honestly had thought very little about the Lakers, either. He was playing for Akasvayu Girona of the Spanish League, eventually earning the 2008 league MVP. He was content overseas, and didn't think anyone in the NBA wanted him.
But after the FIBA gold medal game, the Grizzlies considered Marc a dark horse. In fact, Pau had been campaigning for his brother long before that. "I tried to tell them to draft him," Pau says. "And once he was drafted, I tried to tell them to trade for that draft pick after the draft. But they weren't interested at the time. Obviously, they were interested later."
During the trade discussions with the Lakers, West says Grizzlies G.M. Chris Wallace specifically "saw something in Marc" and asked for him. The perception is that Marc was a throw-in, but the Grizzlies were well aware of the kid's potential. They'd seen it at Lausanne when Marc was a wide-body, and they'd seen it on film from Europe. "They knew how good the kid was going to be," Hubie Brown says of Memphis. "The Lakers, I'm telling you, had no idea."
---
THE FIRST TIME they squared off in the NBA -- three days before Christmas, 2008 -- was a victory for Pau, both on the scoreboard and head-to-head. Pau had 15 points and seven boards in a Lakers victory, while Marc had eight and seven.
They didn't look each other in the eye all night.
Pau says he never looks an opponent in the eye, but Marc says that night set the tone for their annual battles. "It's pretty rare that we have eye contact. I can't recall a situation where we have had eye contact. Maybe after a bad call. We'll say, like, 'Well, I didn't foul you.'"
Marc was still a work in progress when he arrived back in Memphis from Spain. But the Grizzlies fan base, once in love with Pau, fell harder for his kid brother. They had remembered him as the fat kid who loved cheeseburgers. When Van Hoozer saw how the "Big Burrito" had transformed his body upon his return to town, he did a double-triple take.
"Pau was quiet and kept to himself," says Van Hoozer. "But we're a blue-collar fan base. We want players who are physical and have a chip on their shoulder. And here's Marc. He has a mean streak. He's kind of the anti-Pau and became like a cult hero. He was a Memphis guy from high school and became one of the most popular Grizzlies ever."
Marc had the same feel for the game as Pau did, the same soft touch. But, according to West, he was the superior passer. Brown, in fact, says Marc would feed teammate Zach Randolph better in the post than the Grizzlie point guards did. Pau may have won rings with the Lakers in 2009 and 2010, but Marc was an All-Star in 2012 and was clearly the ascending Gasol.
Still, the head-to-head matchups told a different tale. Coming into this season, Pau's teams had won 12 of the 18 matchups, and Pau had averaged 14.8 points and 10 boards against the Grizzlies while Marc averaged 11.7 and 9.4 against the Lakers. So big brother still had the edge heading into this past summer -- not that either Pau or Marc would ever admit it.
"We don't talk about the games," Marc says. "We do not talk. We have too much pride. Whatever time the game ends, one of is going to be mad. Really mad. We have two glasses of red wine, and then we start talking maybe a little bit about it. But before those couple glasses of wine, we don't talk about the game." Their preferred scenario is when both are playing side by side for the Spanish national team - 7-foot Pau at power forward and 7-1 Marc at center. In September, they were on their way to perhaps another FIBA World Championship when Marc's wife went into labor with their first child. It was the day before their quarterfinal against France, and Marc left the team to be with his wife. Pau showed up at the hospital right after baby Julia was born and proposed a toast: "To Julia and a great year ahead."
Over another glass of wine.
---
THIS 2014-15 season began with Pau in Chicago with the Bulls and Marc thinking championship with the Grizzlies. The Gasols were finally in separate conferences, and there was some sentiment that Chicago and Memphis could actually meet in the NBA Finals. Two brothers squaring off in June seemed enticing. But the thought of these same two brothers squaring off in an All-Star game seemed unrealistic.
Marc was considered the far more complete player now, a superior defender. In fact, West -- now an executive with Golden State -- already was calling Marc "the best center in the NBA." Pau, at 34 years old, seemed too brittle to join Marc as an All-Star. If a Bulls big man were going to make it, it would be Noah.
Pau was averaging 18 and 12 this season compared to Marc's 18.6 and eight. There was no other Eastern Conference center with numbers close to Pau. No European player had ever been voted as an All-Star starter, but in late January the fans voted both Gasols into the starting lineup.
"It was exciting, very exciting," says Pau. "A big honor, not for one of us, but for both. Our family entirely. And I think also for Spanish basketball - European, international basketball. It's just a big, big deal."
Had they not made the game, they were probably going to spend a portion of the All-Star break together, along with Marc's wife and baby Julia. Instead, they are the first brothers to ever be voted in as All-Star starters and the first set of brothers to be all-stars, period, since Tom and Dick Van Arsdale were named reserves in the early 1970s.
When identical twins Tom and Dick Van Arsdale first opposed each other in the 1970 All-Star game, they made a pact not to block each other's shots, and contemplated switching uniforms before the game just to trick the general public. "Now I wish we would've done it," Tom says.
But the Gasols -- ever since their camping trips to the Barcelona countryside -- have always treated their matchups like battle royals. Come Sunday in New York, they will be trying to block each other's shots. "At tip off, it's going to be all smiles," says Marc. "We will have eye contact. We will be embracing that moment.
"But I'm still not going to let him score."
Meer van Tom Friend --
Hier
--
Meer over de unieke 'Broederstrijd' --
Hier
--